Ready to book your experience or have more questions?
Toprope and Anchor Building Class
Whether you're rock climbing or ice climbing everyone has to know how to build anchors. Toprope anchors are the base from which most people learn to build more complicated anchors for bigger and more advanced climbs. Under the guidance of knowledgeable guides participants can add a variety of skills to their tool box in order to ensure they can handle the multitude of situations they will run into rock climbing. For more advanced climbers learning ways to manage equipment and read the terrain helps in building anchors for multipitch anchors or leading to make the most of your climbing days.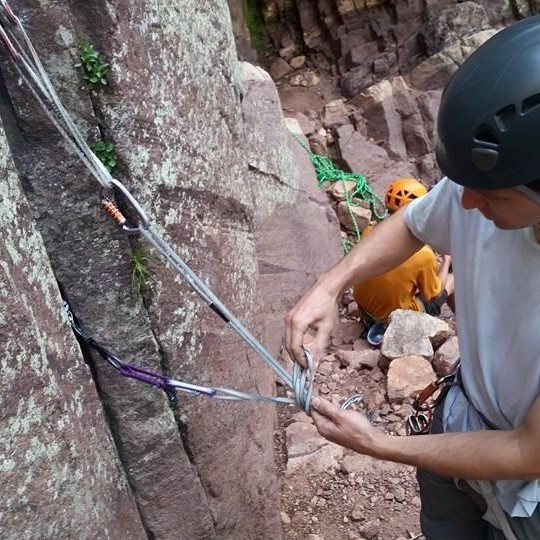 What You'll Learn
Climbers who want to gain independence but are happy to stick to toprope climbing or just want to get more solid on building anchors will be satisfied in their knowledge after this climbing course where they'll learn:
How to use a variety of types of protection to set up anchors for climbing including natural, permanent, and removable anchors.

How to place different types of removable protection such as cams, stoppers, and tricams.

Assessing safety systems and performing safety checks for toprope climbing and how to avoid bad habits and evaluate the hazards of working near cliff edges.

Outdoor climbing etiquette and ethics for new outdoor leaders.
After taking this climbing course participants should feel capable of building a variety of climbing anchors using a variety of techniques.
Best Places To Learn Toprope and Anchor Building
While many areas have some toproping here are a few of the best venues for learning to build anchors:
Climbing Instruction Rates and Availability
1 Instructor
Half Day (4 hours)
Regular Day (6 hours)
Full Day (8 hours)
1 Students
$309
$369
$429
2 Students
$249
$309
$369
3 Students
$199
$249
$309
4 Students
$149
$199
$249
2 instructors to keep low ratios for the best experience!
5-8 Students
$119
$149
$199
Rate Information:
Rates are per person, e.g. 3 people for a Regular Day would be $259/person for a total of $777. Trip start times are custom but generally we recommend 8AM starts for most rock climbing May through September to avoid heat, crowding, and afternoon thunderstorms.
Discount Information: We appreciate our guests but discounts are limited to the following and cannot be combined with any other offer.

Early Bird Discounts and Last Chance Pricing: Book early and save! Schedule any rock climbing trip a month or more in advance for a 10% discount. Any trip booked with less than 48 hours notice incur a $100 convenience fee.

Bundle Pricing: The ultimate way to get started climbing! Purchase 3 or more days of climbing guiding or instruction at once for a 10% discount. Schedule at your convenience.
Required Skills
Participants should be capable of the following prior to participating in this course:
Basic outdoor self care. What to wear, how much water and snacks, etc.

Putting on a regular climbing harness, shoes, and helmet without assistance.

The ability to use different device for toprope belaying is a requirement.
Participants without the required skills may be asked to book additional days to ensure the best learning experience.
Follow Up Classes
With this being a fundamental skill in most aspects of climbing there are a variety of next steps but here are a few that make the most sense: